Discover more from Blu3 Global
For the dreamers, leaders, and changemakers. We are a mission-driven organization striving for equity in technology and blockchain for women+ and allies.
Over 1,000 subscribers
Blu3 DAO wins BIG at ETH Mexico P.2
The Blu3 Hacks program sponsors talented women, nonbinary people, and allies as builders to launch projects in web3 at events and conferences around the world.
"Vitalik, hermano, ya eres Mexicano!" was heard all across the historic venue Projecto Prim where ETH Mexico was hosted August 19-22 2022.
Projecto Público Prim is a historic space where union, culture and creativity are celebrated and invites the public to share projects that consciously rescue, risk and transcend the Mexican present.
Blu3 LATAM DAO was founded after ETH RIO, when previous scholars and contributors, experienced the need to onboard more Latin women into the web3 ecosystem. Blu3 LATAM was born under Blu3 DAO's umbrella under the leadership of power house Latinas Randy, Marysol, Natalia & Mariana. With over 400 members stretched across Brazil, Mexico, Argentina, Peru and Chile, the DAO aims to continue with its mission to empower women, non-binary and trans people to learn, explore and build their careers in the web3 space to achieve financial freedom.
Thanks for reading Blu3 DAO! Subscribe for free to receive new posts and support my work.
💖Cultural Experiences
…Continues from ETH Mexico P1.
Why do we incorporate cultural excursions within every Blu3 hackathon experience?
At Blu3 DAO, we believe that Web3 and crypto mass adoption can only be accomplished by solving REAL WORLD problems. As a result, we strive to facilitate local excursions in which our local hackers can share the environments history and challenges while visiting hackers can learn and create deeper bonds with the territory. According to Travel Weekly, "In 2019, 'Living like a local' will go up a notch with holiday-makers getting so under the skin of a destination, they consider themselves honorary citizens.
Read on to learn about the trips and events that occurred outside of the hackathon…
Teotihuacan Our hackers explored Mexico and visited "The City of the Gods" the most important and largest city of pre-Aztec central Mexico.

Women in Web3 Breakfast 🥞🦄

#Blu3House welcomed 75+ womxn and allies for breakfast #onPolygon with web3 builder frens from @Blu3latamDAO @herdaolatam @surge_women @womenbuildweb3 @BoysClubCrypto @She__Fi @MyBFF @womeninweb3 walking to

to hack and WAGMI.

NFT MX 🌵
A two-day event with a full building takeover, with 300 attendees listening to ecosystem leaders in Latin America dig into tokens, NFTs, metaverse, and all the needed skills to enter the crypto space.
One of our co-leads, Marysol Mauricio, gave a workshop about NFTs use cases and introduced Blu3 to the NFT MX community.
We had a booth during the event, to talk about Blu3 LATAM with attendees and onboard women in our community. The booth was led by Paola Bustamante, one of our amazing contributors from Mexico.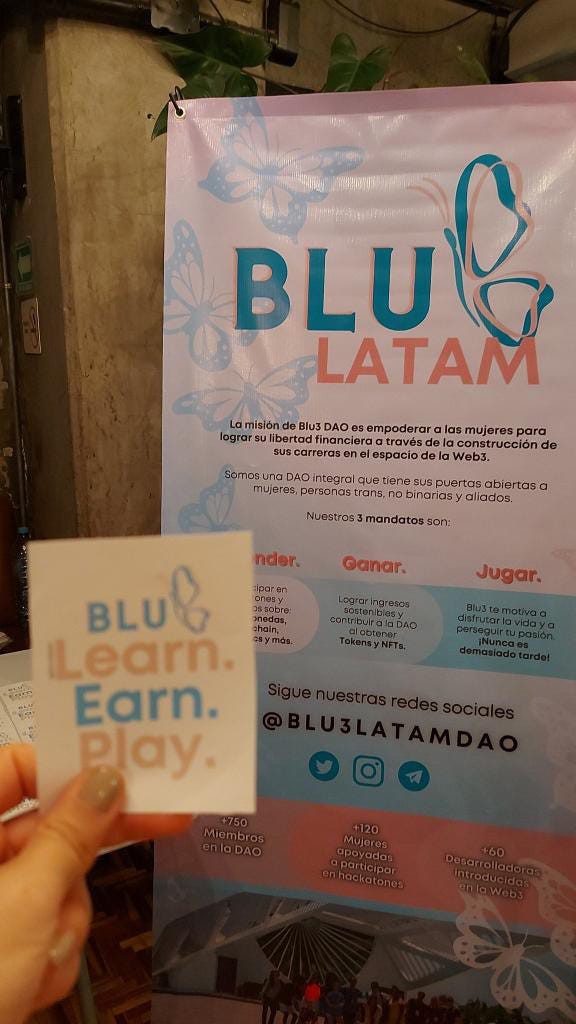 💼Job Offers
💡 1 Job offer from Lens Protocol 🎊
💡 1 Job offer from Wallet Connect 🎉
Major shout out to Polygon 🤠
Polygon was our main sponsor and we are so grateful to them for hosting amazing events for Blu3 hackers and for letting us build with you while making an impact in the life and career course of our blu3 hackers. Also a big shoutout to our swag sponsor Superfluid for the amazing t-shirts we rocked at the pitch presentation.
Check out the Blog Post by Polygon
**How Polygon Helped Empower Women Builders at ETHMexico 2022 💜
You can click below to view previous hackathon projects:
🤩What's next?
We are cooking up an epic event with Techstars to find the next unicorn startup 🦄 build by women+(Allies are welcome). We are partnering with HerHouse & Mastercard to set the vibes and start 2023 with a 💥
J͙O͙I͙N͙ U͙S͙
Monday January 30th @6PM.
Check in starts at 5:30 and
Space is limited so please RSVP ASAP and try not to be "fashionably late".
🤩Celebrate with us at ETH Denver!
We will be celebrating our 1 year anniversary at ETH Denver, where it all started back in 2021. Have you registered yet? In the next few weeks we'll be sharing out itinerary of events including our signature BLU3 DAY Career in web3 workshop series and panel conversations. Keep scrolling to see what we already have on the schedule!
Thanks for reading Blu3 DAO! Subscribe for free to receive new posts and support my work.