Discover more from Blu3 Global
For the dreamers, leaders, and changemakers. We are a mission-driven organization striving for equity in technology and blockchain for women+ and allies.
Over 1,000 subscribers
It's About to Be a Regen Summer 🔥 Support the Projects You Love with Quadratic Funding
Quadratic Funding has revolutionized the way nonprofits and decentralized communities can raise capital for their mission's. Learn more about how to utilize it for your efforts.
Blu3 Needs Your Support Gitcoin 💙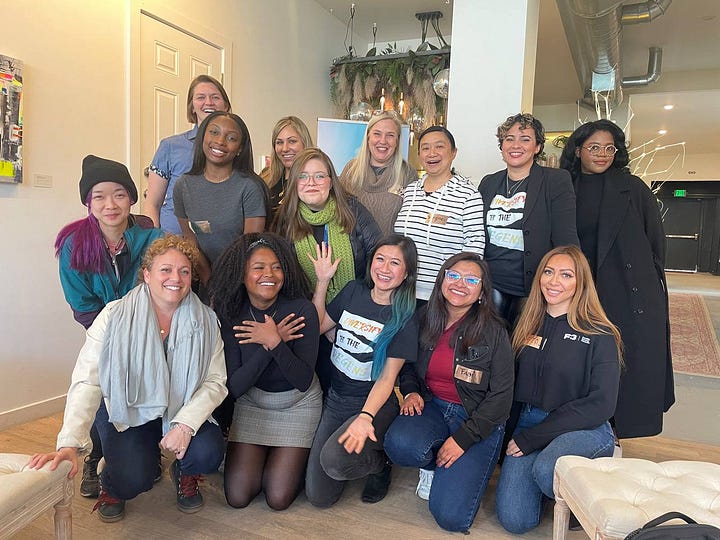 Allow us to re-introduce ourselves, we are Blu3 Global 🦋

We are a mission-driven non-profit organization championing justice and equity for women+ & other diverse builders in emerging technology and blockchain. We sponsor talented and diverse teams to attend web3 hackathons and ignite future founders & entrepreneurs around the world. We are an ALL-inclusive community, and open our arms to women, nonbinary people, allies, and technical and non-technical builders alike.

As a non-profit, all of our funding goes to powering our educational programming. On Gitcoin, through regenerative finance & quadratic funding mechanisms, you can contribute as little as $1 to our grant, and we'll be matched with up to $100 from a sponsored funding pool! Learn more about these cutting edge technologies and how they are revolutionizing the world of fundraising below. As a loyal Blu3 community member, please consider donating to our mission today ⬇️
What is Regenerative Finance?
Regenerative finance is a type of financial system that aims to promote economic, social, and ecological sustainability by integrating regenerative practices into financial transactions and investments.
In contrast to traditional finance, which often prioritizes short-term profits and ignores environmental and social impacts, regenerative finance focuses on long-term resilience and regeneration. This involves investing in projects that support sustainable agriculture, clean energy, and other regenerative practices that promote the health and well-being of people and the planet.
Regenerative finance also emphasizes community involvement and empowerment, with a focus on supporting local economies and promoting social justice. This approach recognizes that financial systems have a significant impact on people and the planet, and seeks to create a more equitable and sustainable future through financial practices that prioritize regeneration over extraction.

TL:DR - Make money work for society, not the other way around! 🚀
What is Quadratic Funding?

Quadratic funding is a crowdfunding mechanism that aims to democratize fundraising and support grassroots initiatives. The concept was first introduced by Vitalik Buterin, the co-founder of Ethereum, in 2018.
In traditional crowdfunding, the amount of funding received by a project is proportional to the number of individual contributors, regardless of the amount they contribute. In contrast, quadratic funding takes into account both the number of contributors and the total amount contributed. This means that smaller contributions from a large number of individuals can have a bigger impact than a single large contribution.
Quadratic funding works by using a matching algorithm that matches funds contributed by large donors with funds contributed by small donors, based on a quadratic formula. In this way, the algorithm incentivizes a large number of individuals to contribute small amounts, as their contributions are matched more generously by the funds contributed by large donors.
TL:DR - Your dollar is your VOTE! 🔥



Our Favorite Projects on Gitcoin Beta Round
Learn how to donate & save gas, check out these tutorials below: